| | | | | | | |
| --- | --- | --- | --- | --- | --- | --- |
| | --- | | Twink Likes Blacks (2009) | | | |
| | | |
| --- | --- | --- |
| | Author: admin (9-07-2012, 11:44) Views: 1196 | |
This video features Riu Melo recounting some super hot instances of picking up beefy, black cock all over the city and sharing every detail of the hot, anonymous sex that follows with fuck-buddy Rodrigo Bekmann. Riu Melo gets fucked by a bevy of hot, black stud and takes them each like the star that he is. This film sees him recount each of these encounters in true detail.
In Riu's recounting, Anibal Ribeiro and he chat for a while before walking back with him and getting some hot, twink throat and ass wrapped around his big, black cock. Riu really enjoys sniffing that cock, licking it, putting as much as he can in his mouth and pretty much getting Anibal wound up for what turns out to be a nice, hard fuck. Anibal goes from ass to mouth to finish up squirting a huge nut on Riu's chest. You can't watch this cumshot without noticing how big that black cock is next to that tiny white boy's chest. It's hot as fuck thinking about that monster dick being forced up his tight little tail. Riu pays him back by nutting on Anibal's leg. It's a hot way to say thanks!
Riu Melo picks up Duarte Da Rua on the street as well. He's a busy little blonde boy! Duarte doesn't waste any time getting his prick out of his pants and Riu is immediately on it. Duarte is a patient fuck who just enjoys this tight little hole for all it's worth. Riu stays hard the hole time he's getting fucked and gives Duarte a nice back and forth of ass and mouth. Once he's done, Duarte puts Riu on the floor at his feet and cums on his lilly white skin. Riu powers out a nice load himself. A slow and easy stretching like Duarte offers will have your hole twitching even if you're a top.
Riu Melo is obviously champion of the park pick-up. This time around he's snared two big black dicks to pleasure himself with. Adrian Correa has a thick dick that would scare the fuck out of most of us and Heito Madeira isn't far behind. Riu seems comfortable with the prospects, though. He starts with some head to get these guys really revved up for his hole and then gets Adrien's tongue up his hole just before getting split open by that super wide dick. It's the first time we see a look on Riu's face that might indicate he's bitten off more than he can chew. Before he whines too much, though, Heito stuffs some black cock back in this little white twink's mouth. Once Adrian pulls out Riu scoots his ass over and sits on Heito's lap. Both guys end up marking this boy with their creamy loads before he shoots yet another of his own. Riu is absolutely dripping with cum by the end of the scene.
It's another two for one as Riu talks Romulo dos Santos into coming by with his buddy Rodrigo Bekmann for some white ass. It's a phone call worth the cost of the minutes as he gets another pair of black studs into his room. The guys watch their twin strip as they sit back and get turned on. Then it's Riu's turn to get a look at some hot abs and big pricks. Once the big black meat is out in the open you'll be hard pressed not to fast forward to the ass splitting. Lucky for Riu, Rodrigo enjoys a good bit of ass-eating and fingering before he starts dicking that hole. It's another example of buddies sharing what's best before they both spray yet another load of cum on this boy's chest.
Alonzo Lemen is the last piece of meat we see ravage this little twink's asshole. Probably not the last, he enjoys the hole as if it were his first. He takes his time riding long and steady. He varies the positions. He does all he needs to do to get himself off and Riu, as always, makes himself available however he's needed. When Alonzo finally works his load out, it's one that really punctuates a long series of fucks for this Alexander Pictures quality star, Riu Melo.
If you like cruising yourself or even if it's just a fantasy, the sexual escapades in this movie will have you humping your pillow. Riu Melo takes it up the ass and down his throat from more men and a shorter amount of time than you'd think possible. Don't miss this nut-drainer from Alexander Pictures! You'll be wanting to get outside to find some dick of your own in no time! Enjoy!..
Categories:
Oral/Anal Sex, Twinks, Muscle Men, Cock Sizes: Horsehung, Uncut Cocks, Men of Brazil, Black Men, Interracial, Rimming, Tattoo, Threesomes, Theme: Cruising/One-Night-Stands/Tricking
Starring:
Riu Melo, Anibal Ribeiro, Duarte da Rua, Adrian Correa, Neitor Madeira, Romulo Santos, Rodrigo Beckmann, Alonzo Lemen
Format:
AVI
Duration:
01:49:50
Resolution:
960x540
Size:
1.35 GB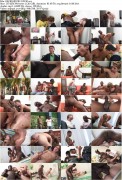 LUCKYSHARE
http://luckyshare.net/6391723666/G5190.part1.rar
http://luckyshare.net/9468092961/G5190.part2.rar
Related porno films: