| | | | | | | |
| --- | --- | --- | --- | --- | --- | --- |
| | --- | | Tulsa County Line (2001) | | | |
| | | |
| --- | --- | --- |
| | Author: admin (9-04-2012, 13:12) Views: 2810 | |
Vintage director Joe Gage emerges from his cryogenic vault to serve up a heaping dose of man-smut. Tulsa County Line proves that 25 years after Gage's heyday, he still has a few dirty tricks up his jock.
In the first scene, Carrington walks in on Branch as he's taking a leak at a rest stop bathroom. Branch turns around, revealing a sexy grin and an even sexier stiffie. Branch sashays by without giving it up, but Carrington can't shake the image of Branch's manstaff.
Carrington ends up yanking his doodle in a stall, as images of Branch's cock dance through his head. In the meantime, an unexpected visitor arrives - it's Donovan, a monstrously hung gent who ends up joining Carrington in a double jerk-off extravaganza.
In the next scene, Sizemore and Bacci receive a special delivery from the delectable Logan Reed (there are two Reeds in the film). The delivery is a video camera, which is put to good use as the boys coerce Reed into stripping down and displaying his eye-popping body and gargantuan noodle. Bacci, who has been leering seductively at Reed throughout the scene, comes over and takes an oral swipe at Reed's reed. Sizemore joins the party, and before you know it, it's a three-way masturbation hootenanny. After Reed provides a brief topping for Bacci, Sizemore and Bacci drop their slop on Reed's manly-man chest.
Next up is a white-hot doctor/patient fantasy starring Cooper (vintage looks, incredible six-pack, top of the Pops) and Mark Reed (rugged to a fault, burly beyond reason, Mediterranean/Semitic looks). Cooper gives Reed a super-thorough exam, including a prolonged anal probing that turns into a five-minute prostate massage. By this point, Reed has been whipped into a sexual froth. Cooper continues his rather unconventional exam by making sure that Reed is truly healthy by doing the "cock-in-the-mouth" test. A drippy fellatio session ensues. Being the good patient that he is, Reed obeys the doctor's orders and mouth-dunks Cooper's putz before allowing Cooper to do a more thorough rectal exam - with his dick!
Reed moans and bleats like the prized ewe at a West Virginia bachelor party.
Next, Gage proves that he's "down with technology" by presenting a true cyber-sex hoedown. Owen (crimson tresses, inked, bad boy) logs on for some virtual naughtiness with fellow Web-slut Frost (brunette, nice hang-low). The boys tease each other by stroking their rods over the webcam. Frost is soon joined a real-life buddy, the rather handsome Rocky (not the Philadelphia boxer). As Owen watches (and gets jerked by a mysterious hand), Frost and Rocky suck and masturbate to climax.
Gage ventures into unknown twink territory with the next vignette, which features a trio of post-pubescent smoothies. Jordan, Richards and Mills are stroking their young, taut manmeat when mule-dicked uber-Dad Johnson strolls in. Before you can say "Shove it in me pooper!" Johnson is eating dick and ass like there's an impending embargo on dick and ass in the works. Jordan settles down on Johnson's johnson for a brief though genitally arousing ride. Johnson ends up on his back so that the young lads can unload their viscous cargo on his chest.
Next up is a brief hookup between Branch and Armstrong (a dead ringer for Rob Lowe). A bit of slurping, a smidgen of yanking and a whole lot of jism are what you'll see.
In the film's cock-laden finale, Branch and Armstrong arrive at a house party featuring a veritable who's-who of porn biggies. Williams, Tucker, Real, Ryan and others are all there pulling their puds. Branch and Armstrong decide to add a bit of spice to this jack-off jamboree by doing the oral thing on a few select organs. Ryan ends up giving up his heiney to Branch, who shtups him like a real man. Enjoy!..
Categories:
Oral/Anal Sex, Daddies, Muscle Men, Uncut Cocks, Group Sex, Threesomes
Starring:
Jason Branch, Jake Armstrong, Christian Owen, Deacon Frost, Rocky, Nino Bacci, Logan Reed, Sergio Real, Matt Sizemore, Clint Cooper, Mark Reed, Jeremy Tucker, Chad Donovan, Jeremy Jordan, Derrick Mills, Ethan Richards, Alex Carrington, Casey Williams, Jack Ryan, Chad Johnson
Format:
AVI
Duration:
02:08:41
Resolution:
352x288
Size:
1.36 GB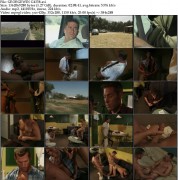 LUCKYSHARE
http://luckyshare.net/5361050414/G4358.part1.rar
http://luckyshare.net/9978135598/G4358.part2.rar
Related porno films: