| | | |
| --- | --- | --- |
| | Author: admin (28-03-2012, 15:34) Views: 3679 | |
From the showers to the warden's office, no place is safe. Are you tough enough to handle the corruption that bursts behind the walls of a state detention center? A new resident learns that life behind bars may be harder than he ever imagined as his fellow Inmates force him to toe the line—or pay the price. Join legendary director Joe Gage and Hunter Marx as they lead a cast of cocky criminals ready to help you bust out.
After escaping a holding facility, Troy Daniels is captured again—and at the mercy of salt-and-pepper warden Allen Silver. Ordered to strip down, Daniels is fingered by cute trustee Devin Adams—whose probing sends the captive's cock sky high. "Do something about that," orders Allen, stroking his own cock through his uniform as Devin slurps on Troy's uncut throbber. The three release their loads, Devin's cock dripping with cum as Troy gets sent to his cell.
In the showers, shaved-headed prisoner Leo Forte soon has company—blind inmate Jayden Grey, escorted to the room by guard Hunter Marx. Jayden lathers up, his big boner catching Leo's attention. Hunter takes advantage of the situation as he grazes his own bulge: "Wanna jack his dick?" he asks Leo. "Put your mouth on it." Leo is quickly on his knees as water cascades down their bodies, the breathless sucker choking on his buddy's big slab. After returning the favor, Jayden joins Hunter in tag-teaming Leo's holes, the bottom soon drenched in cum.
In the laundry room, clean-cut Devin Adams stains his clothes—and mohawked bad ass Draven Torres senses an opportunity. The two strip down to show off their pulsing dicks. Spit drips down as Draven gets his cock worshipped, the two stroking out their loads to release the tension.
Bunk buddies Troy Daniels and Leo Forte can't sleep. "Looking to bust out again, aren't you?" asks Leo, who has a plan to help them escape. The price? Troy's hole. After sucking each other, Troy sits down on Leo's juicy shaft, his own cock staying stiff as he rides. Leo licks the bottom's nipple and rubs his bod, Troy's cock slamming off the top's muscular leg before the two shoot.
Troy Daniels and Leo Forte are brought in for an interrogation along with fellow criminals Jayden Grey and Draven Torres. Allen Silver enlists Hunter Marx and Devin Adams to help teach them all a lesson. As Troy snaps his boner up, Allen stares at him and strokes—their audience of five jacking off as they watch. As Troy slurps on Allen ("Suck it deep!"), Hunter feasts on Leo as Jayden and Devin fill both of Draven's holes. Allen buries his beard on Troy's pubes before eating his hole, while Devin gets fucked by Jayden. Troy then bends over for Allen as Jayden does the same for Leo, who takes turns plowing the smooth hole with Hunter. The loads start to fly, including an impressive double dose from Hunter as the unforgettable orgy comes to a close. Enjoy!..
Categories:
Oral/Anal Sex, Straight Men, Daddies, Beards, Muscle Men, Fetish, Discipline/Punishment, Gang Bang, Masturbation, Rimming, Rough Sex, Tattoo, Threesomes, Uniforms: Cops/Rangers/Security Guards, Theme: Abduction/Held Captive/Kidnapping, Theme: Cellblock/Jail/Prison
Starring:
Hunter Marx, Allen Silver, Devin Adams, Draven Torres, Jayden Grey, Leo Forte, Troy Daniels
Format:
AVI
Duration:
02:18:21
Resolution:
792x448
Size:
2.5 GB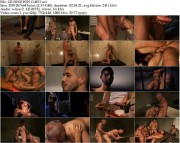 LUCKYSHARE
http://luckyshare.net/3513940571/G4033.part1.rar
http://luckyshare.net/7399513580/G4033.part2.rar
http://luckyshare.net/5166366384/G4033.part3.rar
Related porno films: