| | | |
| --- | --- | --- |
| | Author: admin (4-10-2012, 06:54) Views: 1002 | |
If you recognize any of the names of the performers listed you know that you are not in for a run of the mill gym bunny, smooth boy, California type porn. No, you are going to be treated to real men, muscled and naturally hairy, enjoying hardcore, no-apologies mansex.
There is no set-up, no pretense of story, just horny guys going at it. (Although it would be a bit more seductive to watch these guys undress one another; the viewer seemingly comes into the action already in progress.) Most of the scenes are orgies or mini-orgies with the men quickly switching configurations and moving from partner to partner(s). In fact, the movie may very well be characterized as one big sex-a-thon. Most of the guys are muscular and masculine and many of them sport uncut cocks.
Georges is a significant discovery, a savory French chap. Champ is a dark-skinned black guy with an even darker cock. Hank Hightower is compact and hairy. Most of the men, obviously very comfortable with themselves, easily glide between sex roles - one minute playing the aggressive top and the next the pliable bottom. There's a great double-dildo penetration scene, too.
Sex Inferno's DVD has some decent extras worth mentioning. Not only is there an obligatory slide show of still shots from the movie, but there is also a cum shot gallery featuring live action video of the cum shots from the flick for those who just can't wade through all of the pounding and sucking. Also included is a behind the scenes featurette showcasing some of the performers backstage (including an adorable make-up boy who definitely belongs in front of the camera!) and seventeen trailers for other flicks.
Director Riccelli should be commended for not only grouping together such an agreeable cast, but for eliciting such seamless performances from them all. Enjoy!..
Categories:
Oral/Anal Sex, Daddies, Dildos, Muscle Men, Cock Sizes: Horsehung, Double Anal Penetration, Fetish, Leather, Uncut Cocks, Group Sex, Black, Latino, Interracial, Theme: Sex Club
Starring:
Brent Banes, Chad Wolfe, Champ, Chase Allen, Eric Evans, Georges, Hank Hightower, Michael Brandon, Mike Radcliffe, Rick Brock, Sergio Real, Shahan, Sweet Williams
Format:
AVI
Duration:
01:22:52
Resolution:
640x464
Size:
1.17 GB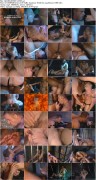 LUCKYSHARE
http://luckyshare.net/2838983737/G5505.part1.rar
http://luckyshare.net/4686958590/G5505.part2.rar
Related porno films:
/table